Some Quick Tips to get you started …
It is a good idea to get down on your hands and knees and look around from your baby's perspective. This really helps spot potentially dangerous objects. For example, an ordinary plant can be poisonous if a curious baby decides to taste it. Even toddler toys left lying around by an older sibling should not be within baby's reach. The most important place to have a safe environment is in your home.

When checking your home, it is also a good time to be sure baby does not have access to swimming pools, toilets, diaper pails, cleaning buckets, bathtubs, showers or hot tubs. It is possible for a baby to drown in as little as two inches of water. Drowning is the leading cause of unintentional injury related death among one to four year olds.

Medicines, bleaches, oven and drain cleaners, paint solvents, polishes, waxes, matches, cigarettes and lighters are also dangerous to your baby. These should always be kept out of your baby's reach.

Make sure all alcohol is out of reach of children. It is extremely toxic!

Childproof safety locks for cabinets and drawers can be helpful to deter access to your baby.

Use child-resistant packaging as it can help save baby's life. Keep the number of the poison control centre near your phone so you can call for emergency first-aid advice.

NEVER line trash cans with plastic trash bags due to the choking and suffocation hazard it poses.

NEVER place children to sleep on pillows, cushions, waterbeds, beanbags or any other surface not designed for infant sleep.

Blind Cleats should be installed to keep blind cords out of reach of children

A secondary window lock or window guard should be placed on each window

Look for a changing table with straps that help prevent baby from falling. ALWAYS use these straps to restrain baby when the changing table is in use. Be sure any baby products you need, such as powder or wipes, are easily accessible. NEVER turn your back on baby when reaching for baby products.

Infants should always sleep in a crib that meets current federal and ASTM standards

Mobiles need to be kept out of reach of children and removed as soon as they can pull themselves up

Baby Safety - Room by Room
Nursery
• Install blind cleats to keep blind cords out of reach of children.
• Place some type of secondary Window Lock or Window Guard on each window.
• Look for a changing table with straps that help prevent baby from falling. Always use the straps to restrain baby when the changing table is in use. Never turn your back or leave baby unattended, even for the shortest moment.
• Install a Carbon Monoxide Sensor.
• Pay special attention to electrical safety in the Nursery. (See the Electrical Safety section).
Crib Safety
• Infants should always sleep in a crib that meets current federal safety standards.
• Choose a firm mattress that is specifically designed for your crib. The crib mattress should fit snugly, with no more than two fingers width between the edge of the mattress and the crib.
• Always use crib sheets that fit securely.
• Crib bumper pads are not recommended by most pediatricians. If you choose to use crib bumper pads, make sure they fit around the entire crib and tie securely into place. Once the baby can pull up to a standing position, the bumper pads should be removed to reduce risk of the baby climbing out of their crib.
• Drop side cribs have been recalled. If you continue to use a drop side crib, remember to keep the crib side up while baby is in it.
• Crib slats or spindles should not be spaced too far apart, and none should be loose or missing. Cribs should not have any splinters, sharp edges or missing pieces.
• Remove sheepskins, pillow-like stuffed toys and other pillow-like products from the crib. Many pediatricians discourage the use of any blankets or covers in the crib.
Kitchen
• Use back burners on stove first to reduce risk of burns. If using front burners, always turn pot handles inward.
• Install stove knob covers or remove knobs completely.
• Install stove shields and oven locks, where appropriate, to prevent little hands from getting burned.
• Anchor floor standing ovens to the floor. To check your oven, grab the back of the oven and pull forward or open the oven door and push down. The oven should not tip forward. If the oven is not properly installed, have a qualified appliance service company repair it.
• Keep dishwasher locked or install an appliance latch. If latching is not possible, point sharp utensils downward. Do not add dishwashing detergent until you plan to run the washer. The detergent is poisonous.
• Securely latch cabinets and drawers below counter level. Use high quality latches designed to be used with your specific cabinetry, and take special care to install them correctly. Many of the latches available in retail stores do not work correctly on all styles of cabinets and drawers.
• Store all cleaners, detergents and other chemicals and poisons out of reach of children, even if latches have been installed.
• Keep knives and sharp objects toward the back of drawers, even if latches have been installed.
• Always keep garbage inaccessible.
• Avoid using tablecloths, as they and everything on them can be pulled off the table.
• Keep an ABC-rated fire extinguisher on hand in the kitchen.
Bathrooms
• Turn the water heater temperature down to 50°C or less to help prevent scalding.
• Never leave a child alone in the tub, even for a moment.
• Install a tub spout pad and a tub mat in the bathtub to reduce head injuries and risk of slipping.
• Remove soap chips and shampoo and other personal products from the edge of the tub.
• Install toilet locks on every toilet to reduce risk of drowning.
• Do not use automatic bowl cleaners.
• Unplug and store hair dryers and curling irons when not in use.
• Keep razors, scissors and medicines up high and out of reach.
• Collect all medicines including, but not limited to, prescription drugs, vitamins and herbal supplements, and place in a safe container on the top shelf of a closet or other area NOT accessible to children. Never take medication in front of a child or call it candy when administering to a child.
Bedrooms (other than Nursery)
• Remove prescription medications or any other hazardous objects from nightstands.
• Secure windows from opening more than four inches.
• Install electrical safety devices. (See Electrical section.)
• Secure top-heavy furniture with quality furniture straps.
• Remove dry cleaning bags from closets.
• Keep children out of closets.
Family Room and Living Areas
• Remove or block off tall floor lamps that could be pulled over.
• Install blind cleats so cords are out of reach of baby.
• Secure top-heavy furniture with quality furniture straps.
• Pad sharp edges on tables and furniture.
• Install flame resistant padding on fireplace hearths. If you intend to utilize the fireplace while your baby is in the room, install a hearth gate to keep baby away from heat and flames.
• Remove glass-top coffee tables or replace glass with Plexiglas®.
• Keep plants away from children. Some are poisonous, and leaves and dirt are choking hazards.
Laundry Room and Garage
Keep as many of your cleaning products in the laundry
room as possible. Store them in a locked cabinet, out of
reach of children.
• If possible, install a lock on the laundry room door.
• The garage should be off limits to infants and toddlers.
• Never leave your child sleeping in the car in the garage.
• Unplug all power tools and put away any projects you are not working on. Lock away paint, fertilizer and other chemicals.
• If you have automatic garage door openers, be sure they have automatic stopping devices installed.
• Securely strap water heaters to the wall.
Window Safety
• Check all your windows and secure any dangling cords from blinds.
• Install child safe window guards if you plan on opening windows during warm weather.
• DO NOT rely on window screens to prevent falls from windows. They cannot hold the weight of a child who pushes against them.
• DO NOT place furniture or beds near windows offering easy access for young children.
• DO NOT leave your child unattended, or rely on any safety item to keep your child safe.
Banister, Balcony and Decks
Although building codes are different throughout the country, these are basic safety guidelines for your stair balconies, banisters and outside decks.
• Correct wide-spaced rails by installing additional rails, netting or a Plexiglass/Banister shield alongside the railing. Extremely wide spacing may require some carpentry work.
• Install safety gates to help prevent access to stairs.
• Raise banister or deck railing if it's top height is lower than 36".
• DO NOT place chairs, benches, furniture, potted plants or any objects near banister or deck railings. Children will use them to climb over the rail.
• DO NOT use safety netting or any balcony guard on railings that
are spaced too far apart to provide adequate support for the product. If this is the case, installing thick Plexiglas® or remodeling your balcony or deck may be necessary.
Baby Safety Gates
• Use quality safety gates to contain your baby in a specific area or to barricade them from a specific hazard.
• Install a mounted safety gate at the top of every stairway.
• For bottom of stairs, one of two methods is recommended. Create a Safe Zone by gating off an area to eliminate access to the bottom of the stairs. Many families choose the Safe Zone method to allow for closer adult supervision. If a downstairs Safe Zone is not an option, install a safety gate at the bottom of each staircase.
• Always close the gate when you leave or enter the room, and never leave baby unattended.
• Some gates are not appropriate for use at the top of a stairway, especially pressure-mounted gates and never use accordion-style gates.
• If you have a landing or staircase with balusters, be sure there is no more than a four-inch space between them. Plexiglas or specifically designed rolled plastic can be installed to keep baby from falling through slats.
• Never place furniture next to banister railings.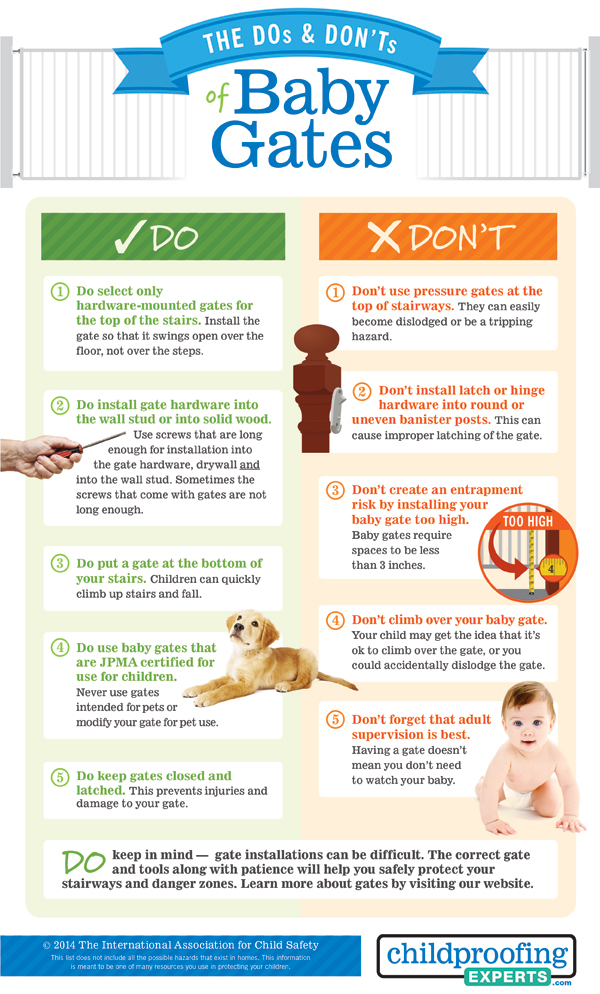 Electrical
• Install self-closing outlets on frequently used outlets and all outlets with something plugged into it.
• Install outlet covers on outlets that have items plugged in that you seldom or never unplug.
• Bundle cords from phones, answering machines and small appliances with plastic wire ties and tie out of reach of small children. Lamp cords can be tied around or zip tied to a table leg.
• If using power strips for electronic equipment, install a power strip cover or mount inside the television or stereo cabinet.
Fire Safety
• Keep all matches and lighters out of reach of children, and teach them the dangers of playing with fire.
• Install fire/smoke detectors in every room and one carbon monoxide sensor on each floor.
• Keep an ABC-rated fire extinguisher in the kitchen and every floor of your home.
• Develop a minimum of two fire escape routes, and practice them.
• Keep children away from barbecues and lighter fluid.
Pool Safety, Spa and Water
Drowning incidents (69%) occur when parental supervision fail and there is no other backup layer in use. Supervision remains your primary layer of protection. Have multiple layers of protection surrounding your pool, spa and water accents.
• The most important layer of protection is a pool safety barrier (fence) separating the pool from your home and all access doors and entrances. Pool barriers should have self-closing and locking doors, and should be at least five feet tall.
• Approved covers and netting are also effective and should be equipped with proper locks.
• Place locks up high and out of child's reach on gates to the pool/spa area as your secondary layer of protection.
• Install alarms on doors from the home to the pool/spa.
• Consider covers or netting for water accents such as ponds, waterfalls and fountains.
• Consider water survival training for children when they are capable of crawling or walking to the pool.
• CPR and your knowledge of rescue techniques are also an important layer of protection, should there be an accident.
Never leave a child unattended in or near any body of water even for a second.
Firearms
More children are killed every year playing with firearms found in the home than an intruder killed in self-defence. If you decide to keep firearms in your home, keep them out of sight and reach of your children, and follow some basic safety precautions.
• Keep all guns unloaded and securely stored in an approved lock box and equip with trigger locks.
• Lock ammunition in an approved lock box separate from guns.
Final Note
Please remember that childproofing or safety devices never replace the supervision of a responsible adult. The best tool you have for preventing injury to your child is your undivided attention. They don't stay small for very long, so you may as well spend as much time with them as you can, and ensure their safety.
Childproofing and safety devices do add a layer of protection. It is important that your home be as safe for your children as possible, since most preventable injuries and death occur in the home.
Professional help is just a click call away
Contact us